PERFORMERS and SPECIAL GUEST PROFILES
NATIVE ROOTS & RHYTHMS 2005
LAUNCH – A Native Youth Showcase
Ria Thundercloud (Ho-Chunk/Sandia Pueblo)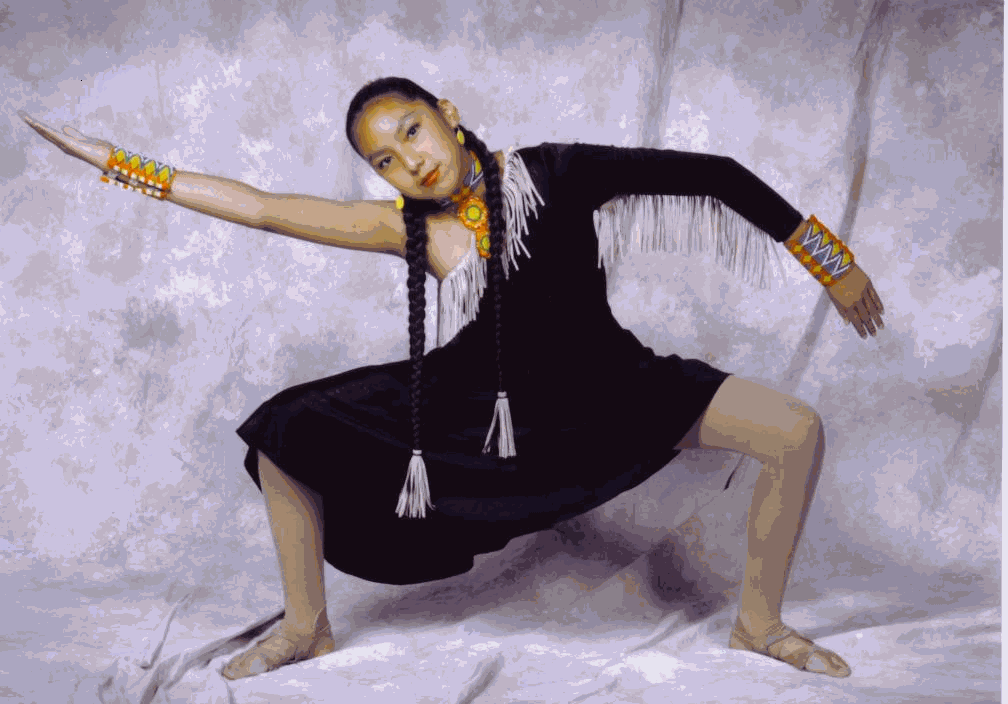 14 year-old Ria is the current 2004 DANCEAMERICA National Champion for Ethnic Solo. She has always been drawn to dance, beginning with her first love, pow wow dancing. Ria has blossomed into a talented and charismatic dancer and is constantly training, working diligently behind the scenes to immerse herself in the world of professional dance. Her repertoire now includes contemporary dances including: ballet, tap, jazz, and modern as well as Traditional Jingle Dress and Fancy Shawl Dance. In April, Ria also won a Platinum level in the Cathy Rowe Regional Competition. Beautiful and charismatic, Ria also acts and models. Her film experience includes: Steven Speilberg's Into the West, All the Pretty Horses, The Missing, and Tortilla Heaven.
The Browns Comedy Twosome (Navajo)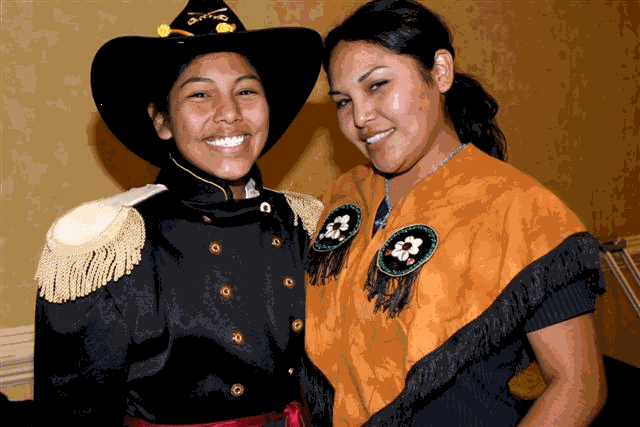 Delicate and Brigadier Brown have created a fabulously funny sister act. Destined to become a notable national act, "The Browns" (Navajo) are of the Brown family of entertainers (Their father is a comedian, sister operates the soundboard, little brother is an actor and mother is also their business manager). Brigadier (13 years-old) began her career at 11, already scoring "big solo gigs" such as the Native Roots and Rhythms Festival, Sky City Casino, and the Navajo Nation Fair. Eldest daughter Delicate (22 years), is also a model and actress. Both were cast in the Steven Speilberg epic Into the West. Acting out original material with crazy props and antics, The Browns have audiences wondering what they will do or say next!
Lil' Dre (Navajo)
At 13, Hip Hop/Rap artist "Lil' Dre" has already been featured in a documentary that aired in France, and he has performed live on ESPN. Lil' Dre received radio play for the single "Day Dreaming" and he was awarded the "Rising Star Award" at the 2005 Native American Music Awards (NAMA). A natural performer, Lil' Dre's rapping and dancing easily connect with audiences. Simultaneously, he manages to keep up good grades and promote a drug-free life.
Yellow Bird Hoop Dancers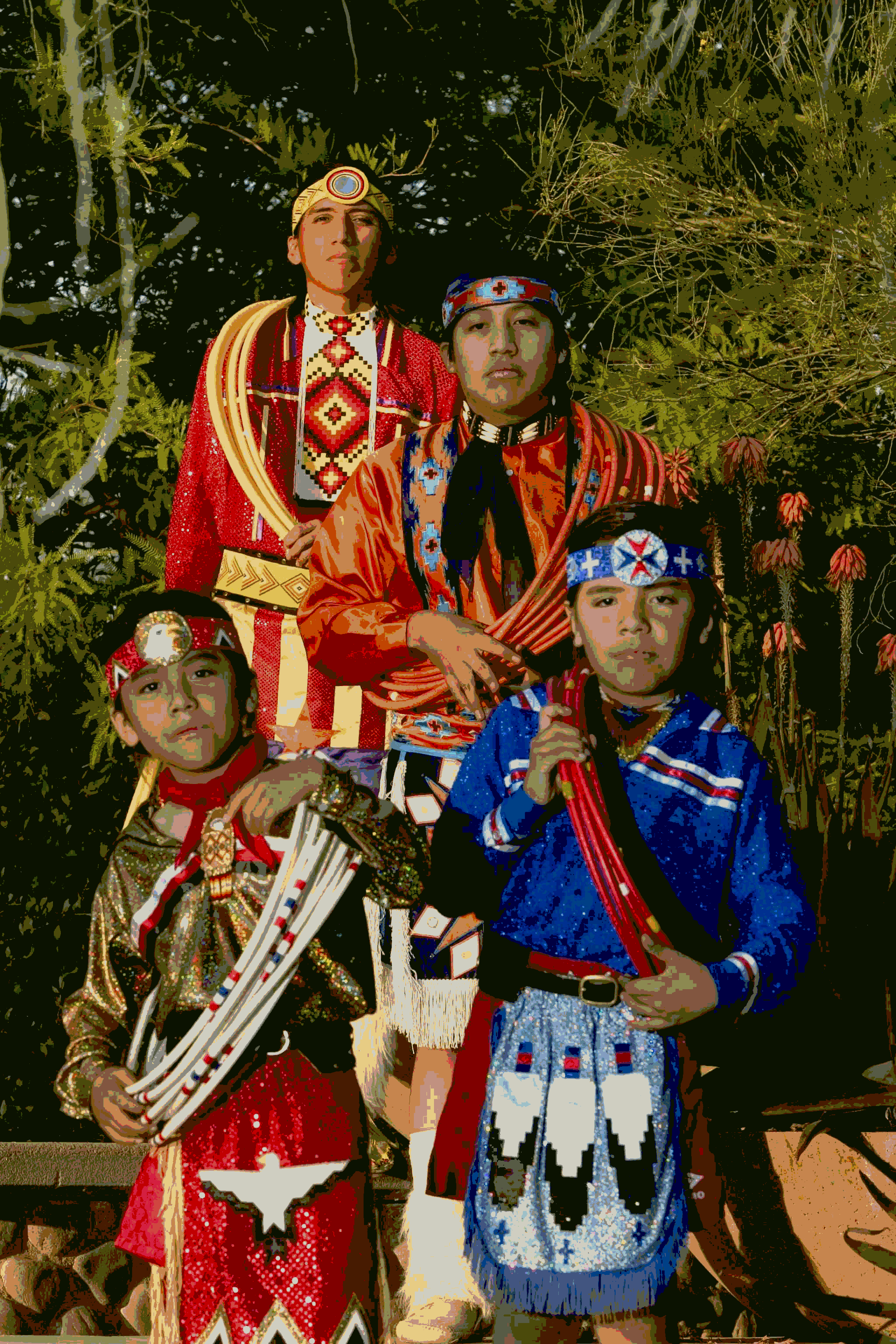 This hoop dancing team of brothers includes eldest brother Tony Duncan, "Yellow Bird Dancing," who held the World Champion Teen Hoop Dancer title in multiple years ('99, '98, '96, '95). He is currently the highest ranked adult hoop dancer nationally. His little brothers; 14 year-old Kevin Dakota Duncan (2003 World Champion Youth Dancer and 2005 Grand Champion of the Boys and Girls Club National Talent Competition), 6 year-old Talon and 8 year-old Duncan are also champions in their respective age division. The hoop dancers create a kaleidoscope of images including the Eagle, Rattlesnake, etc., using over 25 colored hoops, a demonstration of amazing skill and expertise. As part of the Yellowbird Indian Dancers, they have been featured on national television & publications, and have performed globally including: Austria, Belgium, Ireland, Italy, Taiwan and Germany. The Yellowbird dance troupe will be performing at the Kennedy Performing Arts Center in September, 2005.
UNSUNG HEROS OF NATIVE AMERICA TRIBUTE
There are individuals or organizations whose visionary thoughts and actions positively affect the lives of many, create history, culturally empower and/or allow for progressive-minded thought, while basing their actions upon traditional Native American community and cultural values. Often these efforts are coordinated by "behind the scenes" individuals or organizations of tribes who unselfishly commit these acts to invest in their people because its just the right thing to do. Native Roots & Rhythms' Unsung Heroes of Native America segment focuses on two tribes, and representatives of those tribes, who have impacted the history and the future of Native America.
Commission of Po'pay Statue for The National Statuary Hall, Washington, D.C.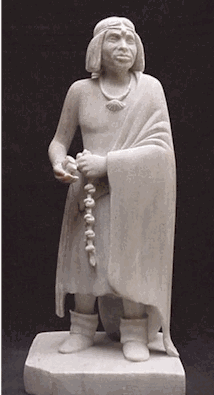 In 1998, the New Mexico Legislature created the Statuary Hall Commission, and the Governor appointed its members. Heading this Commission is Herman Agoyo, a former Governor of San Juan Pueblo. The commission was responsible for directing the process of selecting a sculptor and placing a second statue representing New Mexico, in the

National Statuary Hall in the U.S. Capitol Complex in Washington D.C. The National Statuary Hall's purpose is to honor great Americans. Since 1864, each state has been invited to contribute two sculptures for permanent display; New Mexico's first contribution was a stature of the late Senator Dennis Chavez.

The second statue representing New Mexico (and in September, the final statue to be included in the National Statuary Hall) will be of the San Juan Pueblo Indian strategist and warrior Po'pay. Po'pay is renowned, respected and revered by the Native Americans of New Mexico as the leader of the Pueblo Revolt of 1680. In November 2000, a sculptor from Jemez Pueblo, Cliff Fragua, was commissioned to create the sculpture of Po'pay. The decision to honor Po'pay is the culmination of years of effort headed up by Herman Agoyo. "To the Pueblo people, Po'pay is our hero," says Agoyo. Tribes were on the verge of losing their cultural identity when the Pueblo Revolt brought everything back on track for the Native people. The historic event that he led in 1680 is as important as the American Revolution of 1776."

Seminole Tribe of Florida represented by Tribal Chairman – Mitchell Cypress and Trail Seminole Liaison – William Osceola
A leader in the Indian gaming movement as the first gaming tribe in the United States, the Seminole Tribe of Florida continues as a leading economic development model for Native America. Recently the tribe again jumped to the forefront with the 2004 opening of the Seminole Hard Rock Casino Hotel in Hollywood, Florida. While many successes are trumpeted in carefully planned media blitzes, the Seminole Tribe of Florida has quietly championed many worthy Native American organizations outside their own tribe, i.e. assisting a Native American All-Star youth baseball team with travel to their tournament, sponsoring struggling Native American performing artists, sports & rodeo events, and Native American Elder programs. Especially noteworthy is the tribal members' conscious decision to support Native American businesses such as arts & crafts events, gas stations, curio shops and resorts, thus channeling their economic success back into Native America. As the Seminole Tribe of Florida continues to plan for the well-being of their own tribe - economically, spiritually and culturally, simultaneously they have become a positive example for all of Indian America by choosing to "buy and spend Native American" whenever possible.

Website:

www.semtribe.com

ONE WORLD BEAT – Indigenous Showcase

Maori Peoples of Aotearoa/New Zealand

MATOU (a Maori word pronounced MAH – TOE which means "us")

A collaboration of indigenous musicians and performers performing original compositions celebrating indigeneity, cultural strength, perpetuation of tradition, expression of a love for nature and the geographic areas that each hail from.

Musically, Matou can be described as an eclectic fusion of Native American music and powerful traditional Maori chants. Members of Matou include: Soni Moreno (Apache/Mayan), best known as part of the world renowned trio Ulali, Tiokasin Ghosthorse, a seventh generation Lakota flute maker and player, Tama Waipara (Maori), who has established himself as one of New Zealand's emerging young artists and is currently recording his second album, and Ataahua Papa (Ata) (Maori). Immersed in Maori language and tradition, Ata has been singing and dancing since she was 4-years-old.

ARDIJAH (pronounced "R-D-Jah")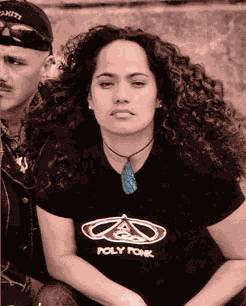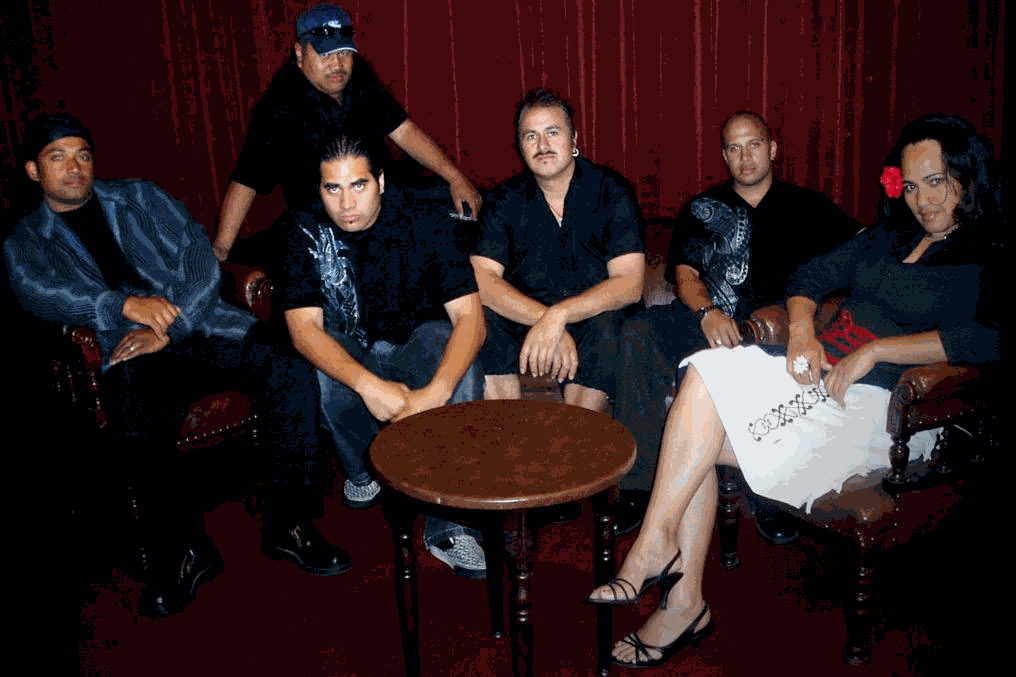 Their sound is timeless and unique, a sweet blend of funk, soul, hip hop and rap combined with their own distinct 'POLY FONK' creation - Polynesian groove rhythms. Ardijah has traversed the ages and collaborated with many artists and producers, nationally and internationally, to maintain and expand their influence. Fronted by the beautiful, charismatic, ukulele playing Betty Anne and her husband, composer/musician "Captain Fonk" Ryan, this team has proven its success and longevity within the music industry for the past 15 years, producing 3 successful albums TAKE A CHANCE, INFLUENCE and TIME. Ardijah's music has received Special Guest support from music legends George Benson, James Brown, Simply Red, and Quincy Jones.
Website:
www.ardijah.co.nz
2005 NATIVE AMERICAN MUSIC AWARDS WINNERS SHOWCASE
Jim Boyd (Colville) – Record of the Year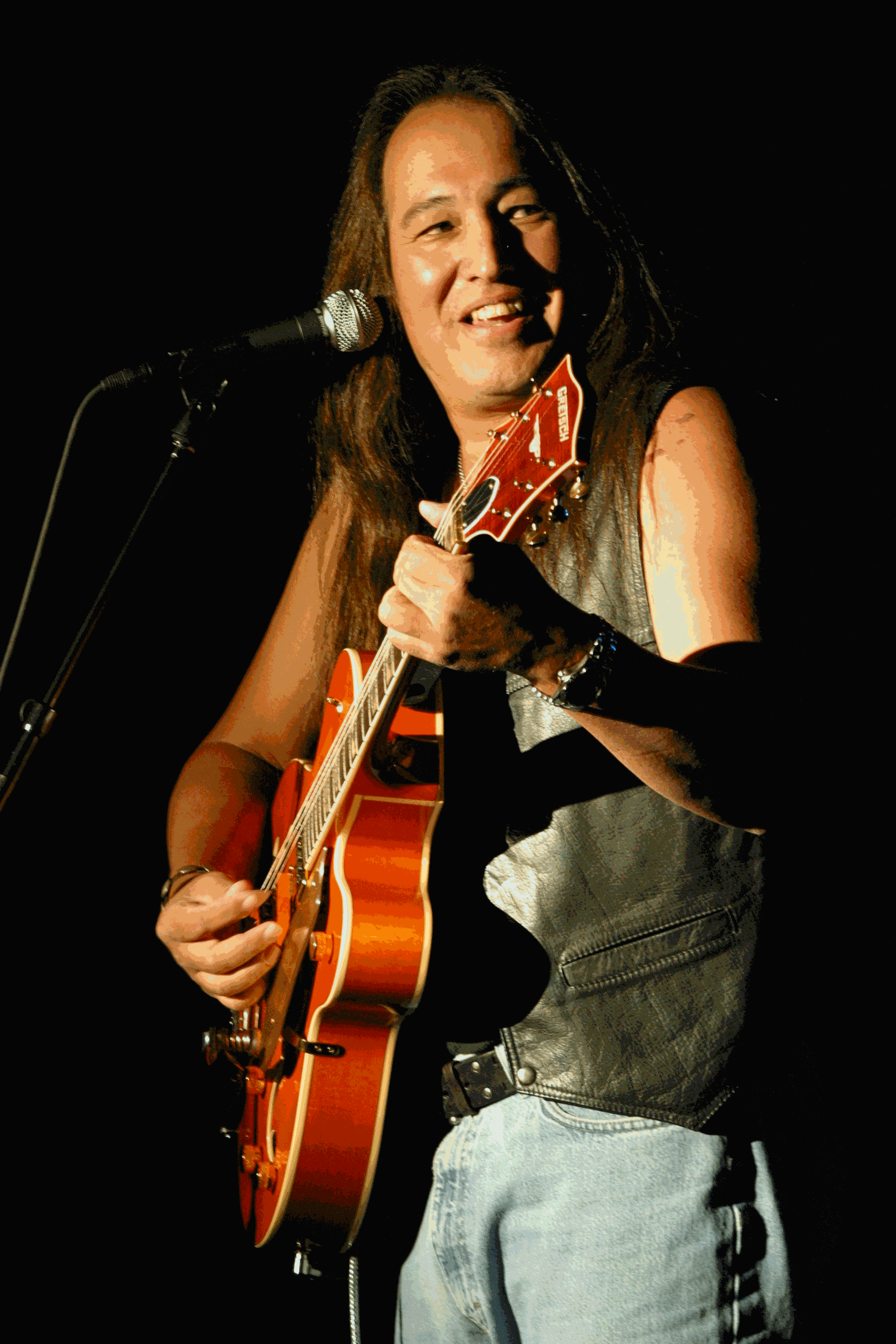 Jim Boyd, from the Colville Indian Reservation in Washington State, is a three-time NAMA winner whose has been musically featured on five film soundtracks including the nationally acclaimed Miramax release "Smoke Signals." A versatile musician, Boyd is a songwriter, guitar player and lead vocalist with seven full-length CDs to his credit.

Website:

http://www.thunderwolfrecords.com/

Litefoot

(Cherokee) – Artist of the Year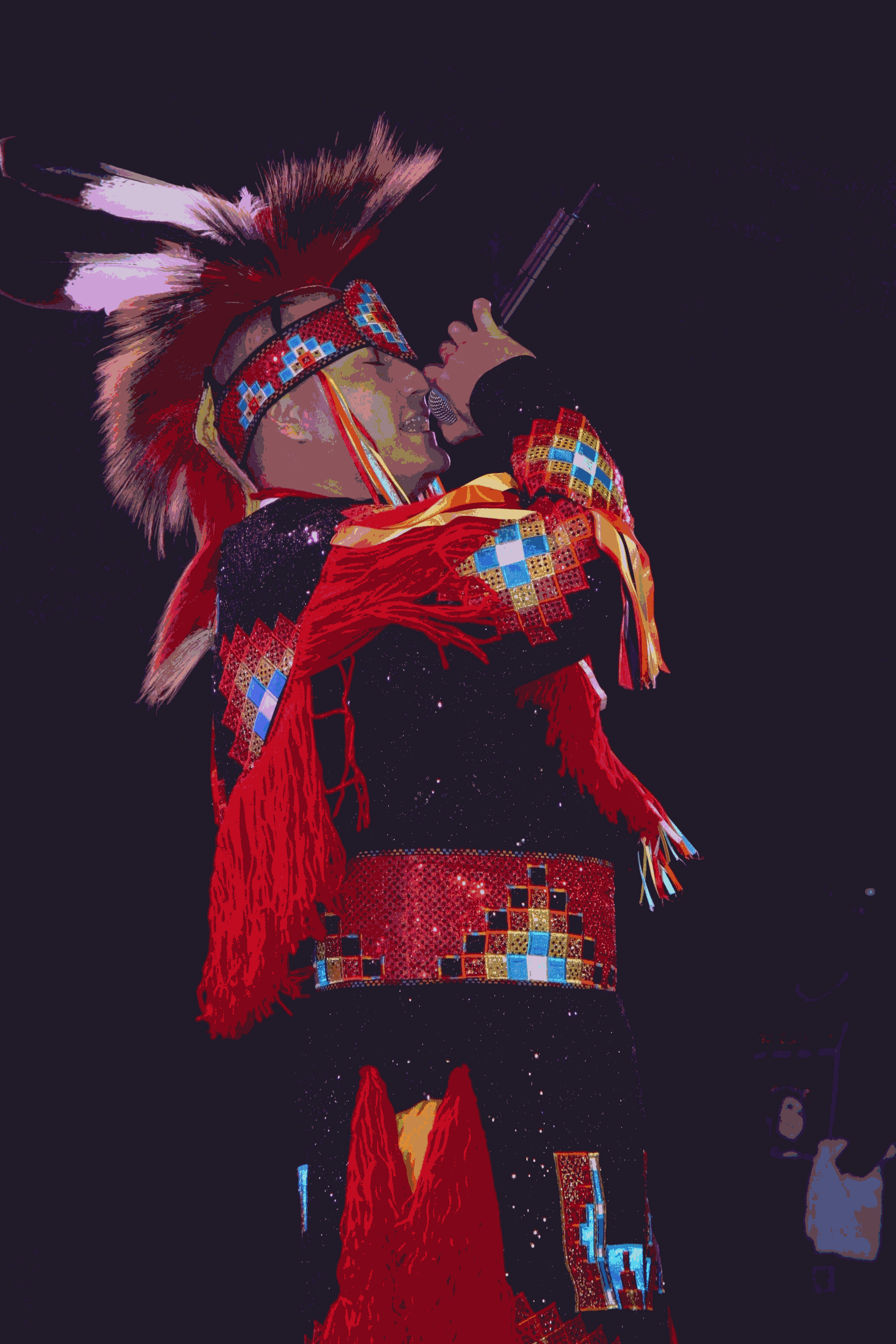 A multiple NAMA award winner, Litefoot took the coveted "Artist of the Year" award in 2005! He is a nationally touring Rap artist, motivational speaker, and the mastermind behind the "Reach the Rez" Tour. (an ambitious year-long project bringing positivity and music to Indian Country). As an actor, Litefoot is best known for his starring role in the movie "Indian in the Cupboard." His acting credits also include: "Adaptation," "Mortal Kombat," and "Song of Hiawatha."

Randy Wood (Cree)

– Best Traditional Recording

2002 Grammy nominated and winner of the 2005 "Best Traditional Recording" NAMA for the recording "Round Dance the Night Away," Randy Wood, "Pow wow Celebrity" is known for his powerful leads with the legendary Northern Cree Drum of Canada. He is a Grass Dancer and has also released two CD's of original compositions. Inspiring rave reviews and descriptions such as "

mesmerizing arrangement of vocal "special effects" that will keep you listening intently for hours on end," Randy Wood utilizes his talents in an evolutionary style, clearly creating a "round dance singing style" of his own.

Website:

http://www.rounddanceblues.net/

TRICKSTER TALES - Theatrical Storytelling Troupe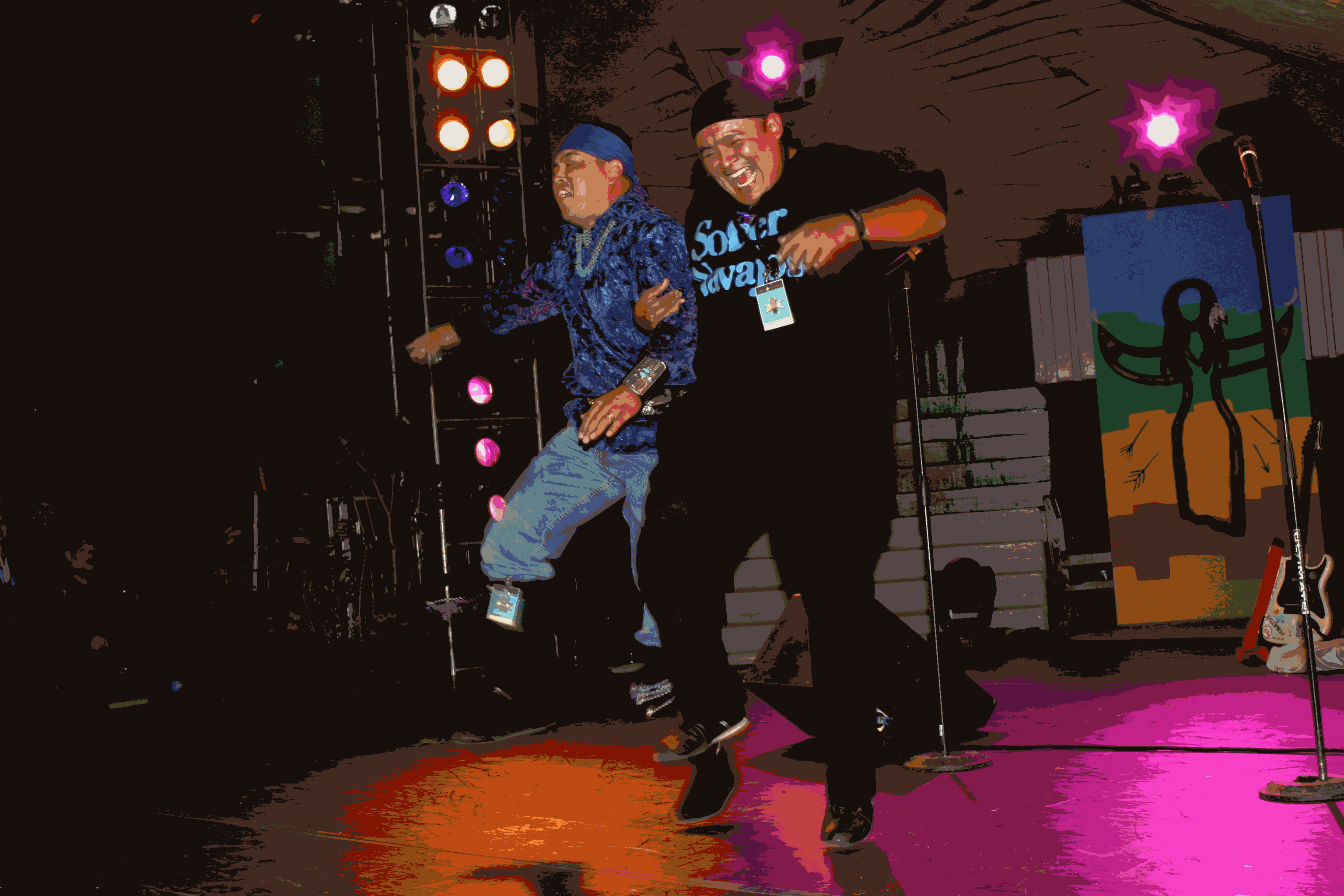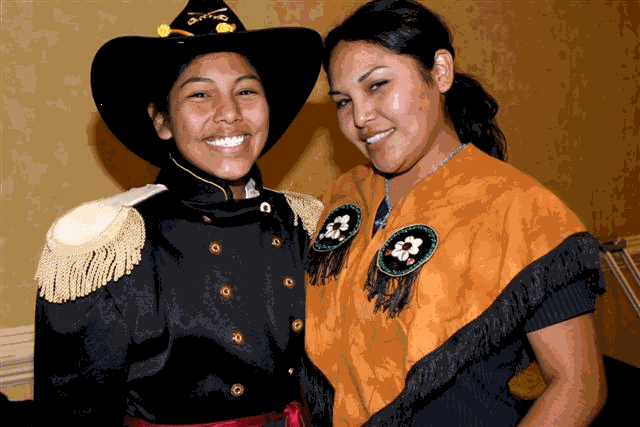 and more!

Trickster Tales features Native American tales narrated by "Shkeme" of the band Native Roots. Each story is spiritedly acted out by the Emergence Performance Ensemble and interwoven with humor, dramatic interpretation, lively characterization, life lessons and humor. Customary to the tribes of Native America, storytelling was a form of entertainment during long winters and also utilized to illustrate improper and appropriate behaviors. The Emergence Performance Ensemble cast includes: James and Ernie – Indian Comedy Duo, Brigadier and Delicate - The Brown Twosome, Onawa Lacy – '03-'04 Miss Indian World, as well as some up and coming talent!

Website:

www.emergenceproductions.info and www.jamesandernie.com